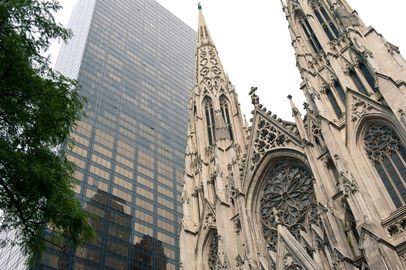 Designed by architect James Renwich, Jr, but actually a virtual replica of the Chartres Cathedral in France, this monumental neo-Gothic shrine is the seat of the Roman Catholic Archdiocese of New York. It is named in honor of the patron saint of Ireland, Patrick, a 5th-century Romano-British Christian missionary and bishop.
The Diocese of New York was formed in 1808. In 1850 it was made an archdiocese, meaning the leading and most authoritative one. Several years later Archbishop John Hughes decided to construct a new St Patrick's cathedral in a more central part of the city and thus replace the original one located in downtown Manhattan, near today's Little Italy. Construction began in 1858 but was halted three years later due to the outbreak of the American Civil War. Tuckahoe marble from upstate New York was used for the 174-meter-wide, 102-meter-long structure. Work resumed after the war and the shrine was finished in 1878 and dedicated the following year. The rectory and the archbishop's house were added in 1884 and the 100-meter spires in 1888. The stained-glass-windowed Lady Chapel, or the chapel dedicated to the Blessed Virgin Mary, was built in the first quarter of the 20th century. The cathedral has been a National Historic Landmark since 1976.
Inside, everything resembles a real gothic cathedral - the vault ceiling, the altars, the relics, the pipe organs, even William Partridge's admirable early-20th century sculpture of the Pieta. There is only one thing that seems out of place - the TV screens hanging on the columns, turned on for those unimaginative churchgoers who cannot see the archbishop from the back rows. Convenience sometimes compromises true spirituality.
The current Archbishop of New York is Cardinal Timothy Michael Dolan.