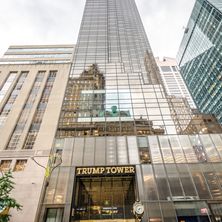 The 202-meter high, 68-floor Trump Tower, which contains apartments, offices, luxury shops and even a waterfall in its atrium, was built in 1983 by New York real estate baron Donald Trump, who is its current owner and principal resident. In its day the tower, designed by architect Der Scutt, was the highest building in the city to have a reinforced concrete, shear-wall core structure, which makes it resistible to heavy winds and minor earthquakes. It was also the highest all-glass building in Manhattan at the time of its completion.
Donald Trump was born in 1946 and after finishing the university began working for his father's already successful real estate developing company, taking over as president in 1971. In the early 1980s the Trump Organization became the leading real estate developer in New York and soon afterwards, America. It also began stretching its tentacles overseas and currently owns property in ten different countries. Primarily, the corporation develops, constructs, operates and owns real estate, hotels, resorts, gold courses and residential towers, but it also dabbles in media, entertainment, publishing, beauty pageants, retail, financial services, video games, food and beverages, business education, travel, airlines and Mr. Trump's favorite pastime, model management. In fact, all his three wives have been models and he is known to have dedicated significant energies to developing the talents of many international beauties between the marriages. His net worth is $4 billion.
Although Donald Trump presents himself as a self-made man, many of his competitors consider him a mere fruit of his father's efforts.