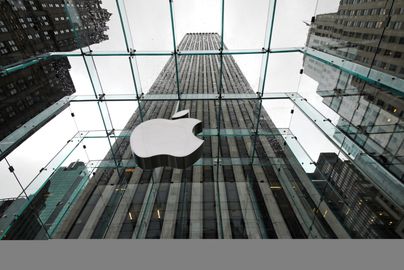 The word "transparent" does not even come close to defining this cube. It is practically invisible. And when you finally make out the presence of glass the mystery gets even bigger. "What's in it?" you ask yourself. You come up closer and still do not see anything inside except for a white glowing apple. "What in the world can it be?" you become impatient. And then, lo and behold, you realize that the cube is only the entrance, that the glass elevator and staircase take you down below the ground. "And what's there?" your blood is racing through your veins.
There, in the netherworld of Fifth Avenue, under the eccentric cube designed by the architectural firm Bohlin Cywinski Jackson, we find the 10,000-square feet Apple Flagship Store, representing and selling the products of the most popular company in the world, Apple Inc.
In the first fiscal quarter that ended on December 27, 2014 Apple Inc. registered a world-record profit of $18 billion, the biggest quarterly profit ever reported by a public company in history. Apple, which was co-founded in 1976 by Steve Jobs, Steve Wozniak and Ronald Wayne, has been the largest public corporation by market capitalization in the world for the last three years. No company has ever had such success in terms of image and public relations as this computer giant. Most people will agree that Apple is not only a company or a service - it has become an integral part of globalized culture, transforming entire industries such as computers, mobile phones, music and movies.
In New York Apple has three other flagship stores, but the one on Fifth Avenue, which employs a 300-member staff speaking 20 languages, is open 24 hours a day, 7 days a week and is the only underground Apple Store in the world, is definitely the most original. Overall in America Apple has 265 stand-alone stores, and in the world 450. The company's main products include Macintosh computers, iPads, iPhones, iPods, Apple TVs and Apple software.