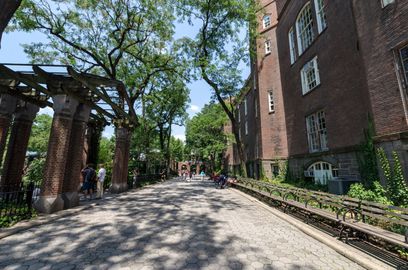 This little, almost unnoticeable area - 6.5 acres to be exact - in the southeastern corner of Central Park was the first official zoo of New York City, and the second in the country after the one in Philadelphia. It opened in the middle of 19th century as a menagerie, a collection of exotic pets endowed to the city by several affluent families. The collection included a bear and several swans, and initially it did not draw much attention from the city dwellers, most likely because of its snobbish location.
However, in 1874, after an article that appeared in the New York Herald newspaper titled The Central Park Zoo Escape, the animals at the menagerie soon found themselves surrounded by countless goggling eyes. It is still not clear whether the article aimed to expose the zoo's inadequate safety regulations or it was a publicity stunt, arranged and paid for by the zoo itself, but it did create a big stir among New Yorkers. The article said that dangerous animals had escaped from the zoo and were running around in the city - 49 people had been killed and 200 injured. Many people took the article seriously, even though at the end it read that, "the entire story given above is a pure fabrication."
In 1934 the zoo was expanded with additional structures, such as the neo-Georgian brick and limestone building around the seal lion pool, which itself was an exceptional structure because it was created based on precise studies of sea lions' behavior. Later, in 1961, a special children's zoo was constructed within the compound. It included a mini Noah's Ark and a part of a medieval castle. In the 1980s the zoo underwent extensive reconstruction.
Today amidst the vines and trellises the zoo is divided into three exhibit areas: polar, temperate and tropic. It has an indoor rain forest with fruit bats, a chilled penguin house, free-flight space for birds and parrots and a polar bear pool, although it is not always occupied. Among the animals that the zoo has housed are tamarin monkeys, red pandas, snow leopards, elephants and western lowland gorillas.
Although the zoo is small, it does manage to transmit a sense of the wild and remind us of our more spontaneous relatives.