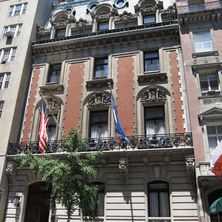 In the first half of the 20th century the Lotos Club was the most distinctive gentleman's club in New York City. It had been founded in 1870 by a group of local writers, and one of its first members was the legendary Mark Twain. The name Lotos was taken from the poem "The Lotos Eaters" by 19th century British poet Alfred Tennyson. The club's motto consists of two lines from the poem: In the afternoon they came unto a land/In which it seemed always afternoon.
The mission of the club has always been to promote and develop literature, art, sculpture, music, architecture, journalism, drama, science, education and the learned professions, and encourage and assist those individuals working and perfecting themselves in those fields. It offered an elegant and intimate ambiance for the professionals to meet, discuss and advance their ideas. Originally, however, the club did not admit women. It was only in 1977 that its constitution was amended in order to include representatives of the fair sex.
In the beginning the club was located on 14th Street near the Academy of Music, which was the city's first opera house. In 1877 the institution moved uptown to 21st and by the end of the century it was already on 46th Street. In 1906 the Lotos Club invited future US President Woodrow Wilson, who at the time had been President of Princeton University, to also preside over the club. Although Wilson declined the offer, he remained a dedicated adherent of its initiatives.
In 1909, thanks to financial support from its multi-millionaire member Andrew Carnegie, the association moved into another location on 57th Street. It was there, in 1910, that the club held its most famous painting exhibition, one that featured the works of the Impressionists: Edgar Degas, Claude Monet, Pierre-Auguste Renoir and American painter Mary Cassatt. Thanks to that exhibition the American public was finally introduced to one of the most influential movements in modern art.
In 1947, due to financial problems, the club decided to move to a simpler building, the current one on East 66th Street. It had been built in 1900, in the French Renaissance style, by architect Richard Howland Hunt. In 2010 the association elected its first female president. Today the Lotos Club actively continues its tradition of offering rich cultural programs in a quiet and gracious setting. Prominent members have been: industrialist and art patron Solomon R. Guggenheim, car magnate Walter Chrysler, New York Times publisher Arthur Hays Sulzberger, actor and director Orson Welles, general and 34th US President Dwight D. Eisenhower, ballet dancer Mikhail Baryshnikov, former New York Mayor David Dinkins and jazz musician Wynton Marsalis.