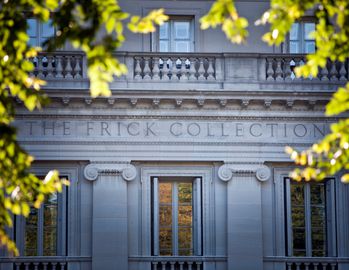 Although the Frick Collection is not a large museum by today's standards, it contains some of the most beautiful paintings in the history of European Art. It is also associated with one of the most controversial American entrepreneurs of the late 19th-early 20th centuries: Henry Clay Frick.
Born in Pennsylvania in 1849, at the age of 21 Frick swore to his family that he would become a millionaire by the age of thirty. He founded the H. C. Frick Company that specialized in turning coal into coke. The company expanded fast. In 1881 he married Adelaide Howard Childs and soon afterwards met Andrew Carnegie. The meeting led to the partnership between Frick's company and the Carnegie Steel Company, in which Frick provided the coke for Carnegie's steel mills. Relations between the two magnates were not very smooth and Carnegie made several attempts to exclude Frick from the company.
1892 was a crucial year in Frick's career and public image. During the Homestead Steel Labor Strike picketing union workers locked the company staff out of the steel factory and asked for higher wages. Frick refused to cede to the union and had the workers replaced with nonunion ones. The union workers continued sabotaging Frick's efforts to keep production going and when he felt that they were threatening the factory he called in a private security force to drive the protestors away. As a result ten men were killed, nine of them workers. Eventually the state militia broke up the riot, but public opinion was already against Frick and soon he became the most hated man in the country.
Three weeks later an anarchist by the name of Alexander Berkman broke into Frick's office in Pittsburgh and tried to assassinate him, avenging the deaths of the striking workers. Two bullets entered Frick's neck, and if it had not been for his colleague John Leishman, who pulled Berkman down, a third bullet would have surely killed him. But Frick survived, and incredibly was back at work a week later.
By the first decade of the 20th century Frick was doing more and more business in New York. He had also become an impassioned art collector. In 1912 Frick, who had already had mansions in Pennsylvania and Massachusetts, asked Thomas Hastings from the architectural firm Carrere and Hastings to build a private mansion for him on Fifth Avenue. Construction of the three-story, Beaux-Arts building lasted two years. Frick lived there with his wife and two children, expanding his art collection, until his death from a heart attack in 1919. Upon his death, his daughter Helen became the richest unmarried lady in America and instead of marrying and starting a family, continued travelling to Europe and acquiring more artwork.
In 1935 Henry Clay Frick's private collection, along with the original furniture, library and decorative objects, was turned into a museum, and Helen became its chairwoman. The paintings that Frick had purchased are indeed impressive. In fact, the collection is considered one of the finest private accumulations of art in the world. There is hardly an internationally acclaimed European master whose work is not represented in the collection. At least there is not a period or school that Frick did not explore. In the intimately lit rooms we find masterpieces such as Duccio's Temptation of Christ on the Mountain, Giovanni Bellini's St. Francis in Ecstasy, El Greco's Purification of the Temple, Holbein the Younger's Portrait of Thomas More, Velazquez's King Philip 4 of Spain and Vermeer's Mistress and Maid.
Looking at the collection, we can tell that Frick was an old-fashioned gentleman and had classical tastes. He still had not fostered an appreciation for early 20th century art, which included schools such as Expressionism, Surrealism, Bauhaus, Suprematism and others. But that is not a problem - New York has lots of other exhibition space for those movements.