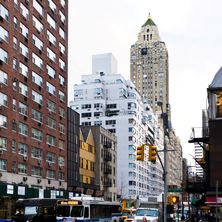 Madison Avenue is considered to be the most sophisticated street in Manhattan, especially in the Upper East Side neighborhood where it is lined by European cafes, restaurants, fashion boutiques and parlors. It runs one way, carrying traffic uptown from Madison Square Park on 23rd Street to the Madison Avenue Bridge on 138th Street. Although the street was constructed in 1836 by real estate developer Samuel B. Ruggles, it is named, just like the park from where it originates, after the fourth president of the Unites States, James Madison.
In the beginning of the 20th century Madison Avenue became the center of the American, and to some degree international, advertising industry. America, being a more liberal and commercially savvy country in respect to the Old World nations in Europe, provided more opportunity for experimenting with human behavior, tastes and mentality. America was also the most advanced capitalistic country at the time, producing a vast number of innovative consumer goods that needed to find buyers.
All the major US advertising companies were located on Madison, and later, when by the middle of the century Europe was beginning to imitate the American consumer model, all the major European companies also had a branch on the glamorous street. One of the most celebrated companies, one that is still present on the avenue today, has been Doyle Dane Bernbach (DDB). Founded in the 1940s, its most famous client has been, since 1959, the German automobile manufacturer, Volkswagen. In fact, in its special 1999 issue The Century of Advertising, authoritative advertising magazine Advertising Age voted DDB's Think Small Volkswagen campaign as the best campaign of all time.
Today the avenue is no longer the center of the American advertising industry, as many big companies have moved out. However, it is still, due to its large variety of haute couture boutiques, an influential reference point for style and refinement in New York.