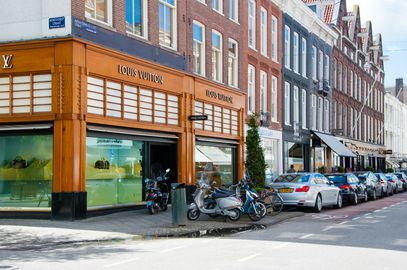 A stroll down the exclusive P. C. Hooftstraat takes the fashionista into some of the world's most chic couture houses. From diamonds, to leather shoes, to designer handbags.
The P. C. Hooftstraat was paved at the end of the XIX century. Originally, P.C. Hooftstraat was a regular street meant for residential homes, most of them based on designs by Pierre Cuypers, the architect behind the Rijksmuseum and the Centraal Station. In 1876 the street received the name of the historian, poet and playwright Pieter CorneliszoonHooft. The latter was born in the XVI century as the son of the mayor of Amsterdam and grew up in a wealthymerchantfamily.Hebegan writing after he had traveled around Europe. Together with Joost van Vondel, P. C. Hooft is considered to be one of the fathers of Dutch literature.
In the 1970s the upper class felt the need for a luxurious shopping street. This was in part due to the decline of the Kalverstraat, the city's main shopping drag. As a result, drawn by the prime location, many luxurious stores moved to P. C. Hooftstraat. Slowly but surely the residential street turned into a chic shopping district. The butchers, the bakers and the bookshops eventually had to clear out to make space for the fabulous international fashion brands. The rents skyrocketed and in the early 1980s the transformation along the entire street was completed. Today the street is among the top ten most chic shopping streets in the world. All theusual suspects of high fashion brands such as Dolce &Gabbana, Louis Vuitton, Versace, Hugo Boss, Tommy Hilfiger, Swarovski, Bulgari, Tiffany & Co., Jean Paul Gaultier and othersare represented along this street.