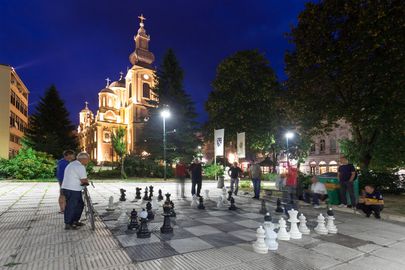 The colonnaded Neoclassical entrance between De Balie and Paradiso leads to Max Euweplein, a tiny square hidden from view by the surrounding buildings. The sign carved in stone into the frieze above pillars translates from latin into A wise man does not urinate against the wind. The sign is not in true Latin, however, for that ancient language has no verb 'to urinate' . Once you pass through the passage between and under the buildings, you will end up in Max Euweplein surrounded by modern constructions, cafes and restaurants and featuring a larger-than-life chessboard and giant chess pieces stowed away for safekeeping in metal chests next to the board. The chests are open and the chess pieces can be used by anyone and everyone between 10:00 and 20:00 daily. On sunny days chess players, surrounded by a crowd of onlookers, challenge each other to a game in public.
These used to be the grounds of the infamous Amsterdam jail, the Huis van Bewaring. Its circular character still recalls its former use as the jail yard. During World War II this was used as an internment camp for prisoners – including Anne Frank's family and members of the resistance – before they were transferredto the death camps. The resistance unsuccessfully tried to free the interns twice. Immediately after the liberation, the prison was used to holdNazi collaborators. A memorial plaque commemorates those who were interned here as well as those who led the attempts to liberate it.
The jail was largely demolished and the square rebuilt anew in the 1990s, following an 8-year procedure requiring permits, licenses, amendments and preparations. The square was renamed after Max Euwe, a Dutch scientist and Holland's only chess world champion in 1935-37. The Max Euwe center is at the house number 30A. The concept of the giant chess board and the chess pieces was proposed to the municipality by a 10-year old school boy.
Nowadays Max Euweplein acts as entertainment area and hosts restaurants, fashion stores, a number of bars, including the city's Hard Rock Café, a stand-up comedy club and the Holland Casino. Upper stories in the building around the square serve as offices and residential apartments.