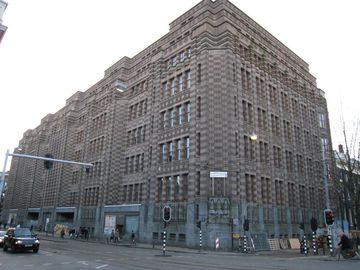 With archives stretching over 32 kilometres long, the Stadsarchief (Amsterdam City Archives) collects and protects documents of significant historic relevance for the city, while also organizing intriguing activities and temporary exhibitions. The Archives offer an unparalleled opportunity to explore the history of the city and documents kept there include everything from a huge range of official papers and letters to early audio material. A few examples of the impressive collection include such treasures as a 1942 police report on the theft of Anne Frank's bicycle (also mentioned in her diary), the Westerkerk burial register where Rembrandt van Rijn's burial on 8 October 1669 was recorded, and a letter from Charles Darwin to the Artis Royal Zoo dating back to 1868.
In 2007 the municipality moved the archives to an enormous building in the city center, known as De Bazel, thus creating one of the biggest city archives in the world. At this moment, the city archive is bigger than the archives in London, Paris or Rome. In addition to the archives of companies, institutions and renown individuals, the archive has also boasts a rich collection of drawings and maps of the city from the 17th and 18th centuries as well as early photographs and films.
De Bazel, the building that has housed the archives since 2007 is in itself an important architectural landmark. Originally built as the main headquarters for an investment trading firm by K.P.C Bazel (after whom the building has been named), a prominent early 20th century Dutch architect, it was later taken over by the ABN AMRO Bank. Up until then De Bazel was known as an artist in graphics and glass, a Furniture designer and an architect for several synagogues around the Netherlands. The building was inspired by the North American architecture of the time and still retains the grandiose look and feel of buildings one may easily encounter in New York or Chicago. Construction took seven years (1919 – 1926) and the building's creator died three years before it was finished. Visit is a must for those interested in Amsterdam history and its way of life.