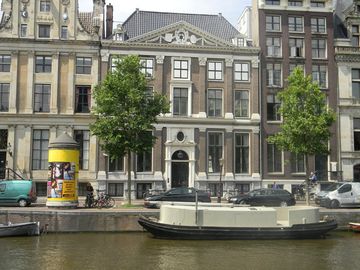 Amsterdam's 17th century canal ring is one of the marvels of the world's architecture. The canals, bridges, locks, city defenses and thousands of individual plots were planned in 1612, when the old Mediaeval city outgrew its original confines. Within fifty years the city was swiftly revamped, new neighborhoods added, new churches, gardens and canals created to transform the city into the glorious Golden Age metropolis we know today. Through a captivating multimedia exhibition, the Canal House Museum documents the history of this unique urban development.
The 17th century patrician house overlooks the Herengracht canal. Its width testifies to its splendor - 16 meters wide - which at the time meant utmost extravagance due to the cost of real estate. In order to economize, most of the townhouses were built tall on a narrow but deep plot of land. The house interior with beautiful frescoes and authentic Dutch floors, was partially preserved.
Built for Karel Gerards, a successful merchant and financier, the house was completed in 1667. It was later owned by several important bankers and business people and its walls have witnessed many noteworthy transactions. For example in the late 1700s, it was here that the loans granted by the Amsterdam banker Jan Willink to the newly forming government of the United States were signed. At the time, the Netherlands were a republic and thus supported the United States during its War of Independence from the British.
The multi-media presentation at the Canal House is presented in a very accessible way; and for those interested in the Amsterdam history and its urban expansion, this exhibit is essential.