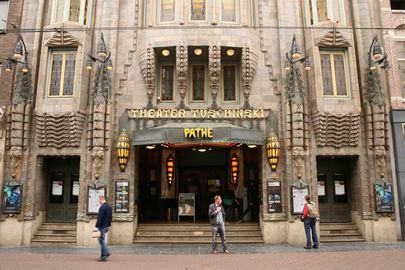 Tuschinski Film Theatre rose above Reguliersbreestraat in 1921, three years after construction started. It was the brainchild of the legendary Abram IcekTuschinski (1886-1942), a Polish Jew who arrived to the Netherlands fleeing the pogroms in Eastern Europe. His career began in Rotterdam, where he ran four cinemas and a hotel for immigrants moving to America.
In 1917, together with his brothers-in-law, Gerschtanowitz and Ehrlich, he moved to Amsterdam, where he intended to realize his dream of building a film palace. As its location he chose the seedy part of Amsterdam known as Duvelshoek (the Devil's End), a rundown district in the city center. Having bought the land, he tore down the existing buildings. The plan for the cinema was designed by Hijman Louis de Jong. However, the latter didn't finish the commission due to quarrels with Tuschinski, who was appropriately nicknamed the Napoleon of Devil's End.
Tuschinski adapted the design for the theater entirely to his own fancy and employed a number of architects and designers, each of whom left his individual mark on the final building. Thus the result was a potpourri of architectural styles, mainly that of Art Nouveau, Jugendstil, Art Deco and the Amsterdam School. At the time, critics condescendingly referred to it as 'plum cake architecture'.
Towards the end of the 1930s, Tuschinski encountered financial problems. The war ensued soon thereafter and soon the film palace was taken over by Nazi occupants who renamed it Tivoli. Neither Tuschinski nor his brothers-in-law survived the war, having been deported and subsequently murdered in Auschwitz in 1942. A plaque commemorating them hangs in the cinema's main hall.
On July 29, 1945 the name Tuschinski was restored to the facade. It was and still is the most popular cinema in Amsterdam, and performances starring Judy Garland, Marlene Dietrich, Edith Piaf, Dizzy Gillespie, Fats Domino and Dionne Warwick were staged there live.
This remarkable building was restored in 2002 and today remains if not the most popular, then definitely the most famous cinema in Amsterdam. Locals stars as well as visiting international notorieties frequently pose out front for the paparazzi during European premières.