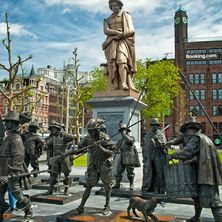 The sculptures you see in front of the Rembrandt statue are the characters from the Night Watch and were created for the 400th anniversary of the artist in 2006. The Night Watch 3D was created by Russian artists Mikhail Dronov and Alexander Taratynov. This bronze representation of the famous painting was on display for three years before it traveled to New York City, Moscow and Oranienbaum, Russia. In 2012, the bronze cast returned to settle in the square redesigned in 2009 and now serves as a permanent magnet for the city's visitors.
Rembrandt Square, originally known as the Botermarkt - Butter Market, was established in 1668 and built from the remnants of the old city port and the city's original Medieval defenses. As the name suggests, the first use for this central square was as a dairy market. Occasionally, locals would also gather here to enjoy a street fair or other small entertainment events, such as dance orchestras or circus tents. The square remained unchanged for nearly two centuries until it experienced a renaissance at the beginning of the 20th century, when hotels, restaurants, and shops sprung up around this square, renamed after the famous Dutch painter. The burgeoning population began to congregate here and it became a popular gathering spot, especially for young adults.
In homage to the artist that the Dutch at last embraced as their own, particularly after Belgium separated itself from the Netherlands and claimed Rubens as their national hero, a statue of Rembrandt was placed at the side of the square in 1852 and then eventually moved to the center of the square in 1876. Cast in iron and painted, it portrays the famous Golden Age artist in a rather casual pose, overlooking the many visitors who gather around the square for fun or to relax. By the early twentieth century, the square developed into a centre for nightlife, attracting artists, bohemians, as well as the proletariat.
The square is surrounded by a plethora of shops and restaurants as well as a number of bars, cinemas and nightclubs. A handful of Amsterdam's diamond factories are also scattered around the square. Several of them offer free tours.